East-West Connector, Polk County, Florida
Owner: City of Lakeland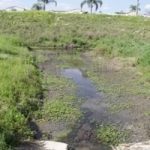 Tierra is providing geotechnical engineering services for the proposed East-West Road (aka Edgewood Drive Extension as part of the Kimmins Contracting Design/Build Team.  The project includes the design and construction of a new roadway embankment from Harden Boulevard to South Lincoln Avenue within the City of Lakeland in Polk County, Florida. The proposed roadway alignment traverses reclaimed phosphate mine land.  Mine-cast soils and highly plastic waste phosphatic clays (slime) are present along the roadway alignment.  These soils are considered unsuitable for roadway support unless the soils are improved to increase soil strengths and decrease settlement potential.  The potential adverse impacts associated with roadway construction through mined land include instability of roadway embankments and drainage swales, overall settlement and differential settlement.  The adverse impacts associated with constructability include handling and managing slimes, unpredictable settlement, and long term soil behavior properties, and disposal requirements associated with the slimes. 
Tierra performed several Standard Penetration Test (SPT) borings along the proposed alignment to evaluate the extent of the slime.  In addition, laboratory testing was performed on samples obtained from the borings for further characterization.  
Due to time constraints for construction of the proposed improvements, an alternative to typical soil surcharging was required to improve the slime soils that were present at the site.  A system consisting of embankment supported by a load transfer platform was proposed to transfer the embankment loads to competent soils underlying the very weak/very soft slimes.  Tierra is currently working with the project team to refine the design layout, testing procedures and subsequent production of the proposed load transfer system.