Suncoast Parkway 2 (SR 589), from North of US 98 to US 19/98 Hernando and Citrus Counties, Florida
Owner: Florida's Turnpike Enterprise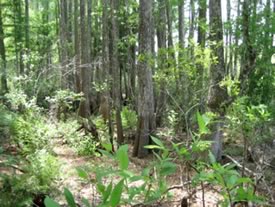 Florida's Turnpike Enterprise proposes to extend the existing Suncoast Parkway (Suncoast 1) northward from its existing terminus at US 98 in Hernando County to US 19 near the small community of Red Level in Citrus County, a distance of approximately 26 miles.  The Suncoast extension (designated as Suncoast 2) has been divided into three (3) sections – Sections 1, 2 and 3.
Section 1 – Suncoast Parkway 2, from US 98 to North of Cardinal Street
Section 2 – Suncoast Parkway 2, from N of Cardinal Street to N of CR 486
Section 3 – Suncoast Parkway 2, from North of C.R. 486 to U.S. 19
The proposed alignment is privately owned property and is currently utilized as commercial, residential and /or undeveloped.  Some of the undeveloped property was not accessible to Tierra's standard drilling equipment.  Tierra used handheld Global Positioning System (GPS) equipment and portable tripod drill rigs to make these remote areas accessible.  The use of handheld GPS equipment allows Tierra to prepare geotechnical exploration programs from site plans and lay the exploration program out in the field without survey support.
Nineteen (19) pond locations were selected from the Pond Siting Report (PSR) phase as final pond locations associated with the project.  Tierra completed a field evaluation of theses 19 pond locations. The field exploration program consisted of borings, geophysical testing, and infiltration/hydraulic conductivity testing.  Tierra performed near-surface infiltration testing at locations identified by the client to support the design of the project conveyance ditches and for modeling of pre-development drainage and field hydraulic conductivity tests within the selected pond sites for pond modeling. 
The 60% design plans for structures, roadway and stormwater retention areas were completed on schedule and within budget for all three (3) Sections.  Since Tierra began services in 2007 on these projects, the project scopes and budgets have not changed.